Cooking with Old Tom
Curiosity never did Old Tom any harm… especially in the kitchen (fat cat!) You'll be purring with delight at these mouth-watering meals, made with a liberal splashing of Old Tom's finest ales.  So pull on your apron, grab your chef's hat and get cooking some of the finest pub grub Britain has to offer.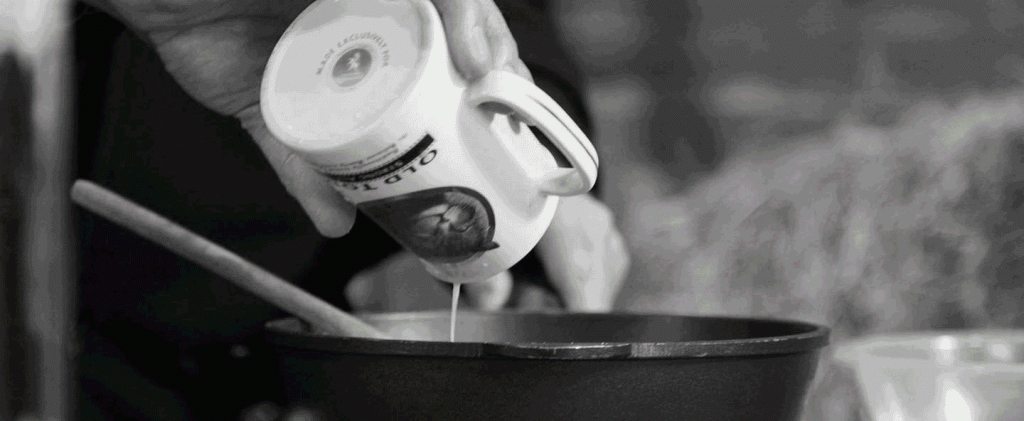 Braised black beef in Ginger Tom
By Mrs Louise Heal chef at The Caledonia
Ingredients
4 slices of quality braising steak
1 fresh Bury black pudding
1 medium onion (sliced)
1 medium leek
sliced 3 stalks celery (sliced)
4 bay leaves
2 cloves garlic
1 inch of fresh root ginger
1 tablespoon tomato puree
1 tablespoon Worcester sauce
black pepper
2 tablespoons fresh chopped parsley
1 bottle of Ginger Tom
Method
Seal the braising steak in butter and olive oil, in a heavy based roasting tin. Add the onions, leeks and celery. Add 1 tablespoon of plain flour to coat. Add all the seasoning and spice ingredients, except the parsley, cook for 1 minute.
Then add the Ginger Tom & break open the black pudding, crumble it and stir in.
Put into a pre-warmed oven, gas 3, cover and cook for 2 hours.
Check the seasoning, add a little water if necessary, and finally add the fresh chopped parsley.
Prepare the side dishes
Make Champ by mashing the potatoes with butter and a little milk, 1⁄2 teaspoon horseradish and 2 finely chopped spring onions, a little salt and pepper.
Prepare Pak Choi by steaming it for a couple of minutes until just wilted.
Create Glazed Carrots by melting a little butter and 1 teaspoon of brown sugar in a pan, stir in the cooked carrots until coated.